Your Best Source for New and Used Jaguar Parts
Largest Inventory of OEM and Aftermarket Parts Online
Shop for Jaguar Parts by Vehicle
Search by Part Description
or Part Number
Example: Jaguar hood leaper emblem
Jagbits is a USA family owned and operated company and has been in business since 1996. We have the largest inventory of new, rebuilt, and used parts, in fact we have the absolute largest used Jaguar parts inventory in the world. We are able to supply virtually any part you need for your 1979 to current model year Jaguar.
Jagbits sells new, used, rebuilt, OEM and aftermarket Jaguar parts for all models, from 1979 to the current year. Models include: XJ6, XJS both coupes and convertibles, XJ8, XJR, XK8 XKR both coupes and convertibles with naturally aspirated engines and supercharged engines, X-Type, S-Type, XF and XF supercharged models, the newer XJ and XJL models, F-Type, XE and the various F-Type models. We cover every possible category of parts such as: electrical, engine mechanical, suspension, body panels, body mechanical, body electrical, air intake, climate control, cooling differential, engine electrical, exhaust, fuel system, fuel injection, steering, transmission and tools.
Order Jaguar Accessories and Parts Online or Call Toll Free:
888-524-2487, International: +1-805-845-0426
Lowest Prices for Jaguar Performance Products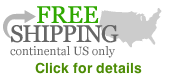 FREE GROUND SHIPPING ON ORDERS OVER $100!
Same day shipping to All 50 states from our California or Michigan warehouses. Most ground orders arrive in 3 business days (48 states only, additional charges for HI AK and all International orders will be applied). We also ship your select Jaguar part worldwide!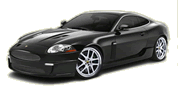 Hundreds of salvage Jaguar cars are utilized with the lowest prices. Body parts and accessories can also be purchased at wholesale. Search for the parts or accessories that you've been looking for.
We have the inventory! Unlike other suppliers, we have access to several huge new and used parts inventories! We sell what others don't have. Other suppliers only sell the parts they have in their warehouse. We have relationships with every supplier in the USA, United Kingdom, Australia, New Zealand, and several other smaller suppliers located in other countries. We have the hard to find parts that no one else has. This is what makes us the best choice for your parts needs. If we don't have the part you need we will find it fast and at the same low prices we offer for our stock.
Look by model name, part number, or part description in the box on right. If we don't have it, we will find it in minutes thru our network of suppliers. If you can't find the parts you are looking for phone us at 888-524-2487, International:+1-805-845-0426 or email us.
Highest Quality Parts
All of used parts have been tested and come with a 6 month replacement warranty. If the part fails within that time, we will replace it with another used part. If you recieve a used part and it is defective call us immediately and we will arrange another part to be shipped and the defective part to be returned to us. For more information on our replacement policy see our Terms of Service page.
Original New Parts

We supply new parts, many of which we buy directly from Jaguar in the USA. Original Jaguar accessories and parts come in Jaguar boxes and have their part number on their label right on the box. OEM parts, which stand for Original Parts Manufacturer, come from the same companies that supply the parts to Jaguar.
These companies are located in many different countries. They contact us and we are able to buy the same exact part you would buy from a Jag dealer for example, for less money. It just doesn't come in a Jaguar box. Same part, different packaging, lower price. We have incredible buying power due to our high sales volume. Suppliers compete for our business by offering us volume discounts and special close out deals. That's why our customers love our parts selection and low pricing.
Used Parts from Our Salvage Yard
New parts for older Jaguars are being discontinued monthly by the manufacturers due to a variety of reasons. Low sales volume is the top reason. Manufacturers discontinue parts when the sales reach a low level. It's simply not business smart for them to make a small volume of parts.
That's why we offer used parts from our salvage yard. Our buyers amass as many wrecked and salvaged cars as possible so that we can keep your Jag on the road! Many customers have told us that if we didn't offer used parts for their car their car would not be able to drive. Quality used parts are obviously extremely important to us.
Top Quality Rebuilt Parts
Rebuilt parts are an excellent alternative to discontinued new parts or high priced new parts. Alternators, steering rack, anti lock brake (ABS) parts like modules, brake actuators, calipers and master cylinders are available from us for most models. These are original parts that have been rebuilt or remanufactured and are as good or better than new!
When you purchase a rebuilt part from us, you are charged a deposit called a core charge. We ship you the part, you install it and ship us back your old part. We refund you the deposit and send your part to our expert rebuilder. They disassemble it, clean it, and rebuild it so it works like new again. We have used the same rebuilders for 20 years and they are the absolute best at what they do. Every rebuilt part comes with a warranty.
Our Worldwide Shipping Service
We ship parts worldwide daily from our warehouses in the USA. Each order is double checked for accuracy before we ship it to minimize errors. Most orders leave the same day or within 24 hours depending on the day and time the order was placed.
Excellent Customer Service
Jagbits has 25 years of experience selling new and used Jaguar accessories and parts. We answer every email and phone call within minutes during normal business hours which is 9 am to 8 pm eastern time. We quickly respond to inquiries and have had the same two salespeople answering your emails and phone calls for the last 10 years with a combined 50 years of parts experience. We know Jags better than your local dealer!
The Jagbits parts specialists who handle the incoming emails and phone calls have been selling Jaguar parts for the last 25 years. We have knowledge and experience that no other company can match! We have worked for Jaguar dealers in the past so we know every detail about your Jaguar so you will get the correct part the first time. Returns cost everyone time and money so we do our best to insure our customers get the correct part every time.
Our customer service is unmatched by our competition because we strive for 100% accuracy in our parts catalogs, with the goal to ship you the right part in three to four days. We research all our auto parts carefully. If we cannot test a used part to be sure it works perfectly we will not ship it. We don't want to waste your time installing a part that doesn't work or is wrong for your car. We can easily email pictures of new Jaguar accessories and parts for identification purposes.
Your Best Jaguar Source Online
Once you try us, you will see why we have the absolute best reviews, best reputation, best parts, best prices, the largest inventory, and most importantly the BEST customer service in the business!
Order Jaguar Accessories and Parts Online or Call Toll Free:
888-524-2487, International: +1-805-845-0426
Here is a list of different parts we offer for most models in our parts catalogs:
Accessory
Antenna Assemblies & Parts
Antenna Rubber Grommet
CD Changers & Parts
Car Covers & Bras
Cleaners & Polishes
Floor Mats, Carpets & Clips
HSMO & Other Fluids
Hylosil
Mud Flaps
Security & Keyless Entry Components
Service, Parts, Owners & Repair Manuals
Shift Knobs
Stereo Speakers & Grills
Stereos & Parts
Air Intake
Air Cleaner Parts
Air Filters
Air Flow & Air Mass Meter Hoses
Air Flow & Air Mass Meters
Air Injection Parts
Air Injection Switch Valve
Air Intake Elbows
Air Pump & Hoses
Auxillary/Extra Air Valve
Breather & Crankcase Vent Parts
Breather Hose
EGR Parts
Belts
Engine Belts
Body Electrical
Battery Cables, Covers, Clips & Parts
Bulb Failure Module
Cigar Lighter Parts
Cruise Control Parts
Exterior Lamps-Other
Fog Lamps
Gauges & Clocks
Headlamps, Bulbs & Parts
Ignition Switches & Parts
Interior Lamps
Lamp Bulbs
Lighting Electronics
Seat Electronics
Sending Units, Fuse Boxes & Relays
Side Marker Lamps
Switches & Switch Bezels
Tail Lamps & Parts
Windshield Washer Parts
Windshield Wiper Parts
Body Mechanical
Badges & Emblems
Body Closure and Access Panels
Body Gaskets and Seals
Body Panels
Bolts & Fasteners
Bonnet Liner
Bumper Parts
Center Console Lid & Other Console Parts
Cupholders& Parts
Door Handles and Parts
Door Latches, Actuators, Solenoids & Parts
Door Panel Retainer
Door Seal
Exterior Trim Parts
Glass
Grills and Grill Parts
Headlamp Washer Jet and Cover
Hinges
Hood Latch Parts
Hood Release Cable
Hood Strut
Interior Trim Clips & Fasteners
Interior Trim Parts
Keys
Locks & Keys
Mirrors and Parts
Seat Belts & Parts
Seat Parts
Spoilers, Undertrays and Parts
Sunroof Parts
Sunvisors and Parts
Treadplate
Trunk Locks, Actuators, Solenoids & Parts
Trunk Strut
Wheel Center Caps, Wheel Emblems, & Hub Caps
Window Motor and Regulator
Windshield & Window Rubber & Trim
Brake
ABS ECU
ABS Motor and Pump
ABS Wheel Speed Sensor
Brake Accumulator
Brake Booster & Parts
Brake Calipers and Parts
Brake Fluid Cap
Brake Hardware
Brake Light Switch
Brake Lines & Hoses
Brake Load Valve
Brake Master Cylinder & Seals
Brake Pad Sensor
Brake Pad Set
Brake Pedal Pad
Brake Reservoir
Brake Rotor
Brake Rotor Set Screw
Caliper Bushing
Caliper Repair Kit
Charge Switch
Handbrake Parts
Hydraulic Pump
Low Pressure Switch
Climate Control
AC & Heater Airflow Flap Actuators
AC & Heater Blower Motors
AC & Heater Controls And Switch Panels
AC & Heater Electronic Control Unit
AC Compressors
AC Condensers
AC Dash Vents
AC Evaporator
AC Expansion Valve
AC High Pressure Valve
AC Hose Noise Reducing Muffler
AC Hoses
AC Idler Pulley
AC Low Pressure switch
AC Microswitch Repair Kit
AC O_Rings and Gaskets
AC Receiver Drier
Bearing Shield for AC Pulley
Belt Tensioner Arm for AC Idler Pulley
Heater Core
Heater Core Water Temperature Sensor
Heater Valve
In_Car Temperature Sensor
Switches and Knobs
Trinary Pressure Switch
Cooling
Coolant Reservoir Tank
Coolant Sensors
Coolant and Heater Hoses & Pipes
Electric Fans
Expansion Tank Cap
Fan Blade
Fan Clutch
Fan Cowl
Fan Switch
Radiator
Radiator Hardware
Thermostat Housing
Thermostat and Gaskets
Water Pumps, Gaskets and Parts
Differential
Differential Carrier Bearing
Differential Gaskets and Seals
Differential Rebuild Parts
Driveshaft & Rear Axle Parts
Driveshaft Center Support Bearing
Driveshaft Flexible Jurid Coupling
Miscellaneous Parts
U_Joints
Engine Electrical
Alternator
Alternator Dump Module
Crankshaft Position Sensor
Distributor Cap
Distributor Miscellaneous Parts
Distributor Rotor
Engine Position Sensors
Harnesses
Ignition Coil
Ignition Module
Ignition Wire Clips
Ignition Wire set
Other Engine Electrical Parts
Sensors & Oil Pressure Sending Units
Spark Plug
Starters & Parts
Engine Mechanical
Cam Covers, Gaskets & Nuts
Camshafts, Bearings & Parts
Crankshaft Damper Bolt
Crankshafts, Dampers & Pulleys
Cylinder Head
Cylinder Head Bolt
Engine & Engine Bay Emblems
Engine Covers
Engine Valve Adjustment Shims
Engines & Mounts
Exhaust Manifolds & Gaskets
Exhaust Manifold Studs & Nuts
Exhaust Valve
Flex Plate (Flywheel)
Gaskets & Seals For Engine
Intake Manifolds & Gaskets
Intake Valve
Oil Cooler Parts
Oil Drain Plug & Washer
Oil Filler Cap
Oil Filter
Oil Pans, Gaskets & Parts
Oil Pump Parts
Timing Parts
Valve Keeper
Valve Spring
Valve Stem Seal
Exhaust
Catalytic Converters
Clamps and Hangers
Gaskets and Bushings
Heat Shields
Mufflers
Tail Pipe Tips
Fuel Delivery
Fuel Filler Parts
Fuel Filter
Fuel Hoses and Pipes
Fuel Level Sending Unit and Parts
Fuel Nonreturn Valve
Fuel Pumps & Pump Parts
Fuel Rail
Fuel Tank & Parts
Fuel Tank Gas Cap
Fuel Injection
Accelerator Pedal
Air Temperature Sensor
Emission Control Parts
Fuel Injection Electronics
Fuel Injector O_Rings& Seals
Fuel Injectors
Fuel Pressure Regulator
Idle Control Parts
Injector Connectors
Oxygen Sensor
Power Resister Pack
Temperature Sensors
Throttle Cable
Throttle Bodies & Parts
Throttle Switches
Steering
Inner Tie Rod
Power Steering Hoses
Power Steering Pump
Power Steering Pump Repair Kit
Power Steering Reservoir
Power Steering Reservoir Cap
Steering Rack & Parts
Steering Column Parts
Steering Rack Boot Kit
Steering Rack Seals
Steering Rack Tie Rod End
Suspension
ABS Sensor Rotor Gear
Ball Joints
Coil Springs
Control Arms, Shafts & Bushings
Electronics
Front Hub Parts
Front Shocks and Related parts
HSMO Reservoir, Pump & Hoses
Miscellaneous Nuts, Bolts & Hardware
Rear Hubs, Bearings & Parts
Rear Shocks and Related parts
Relief Valve
Self Levelling Suspension Conversion Kit
Shims
Subframes& Mounts
Suspension Hoses
Sway Bar Bushings and End Links
Wheel Bearing Kits
Wheel Lug Nuts
Wheel Stud
Tools
Transmission
Cables
Filters, Gaskets & Oil Pan
Gear Selector Module
Mounting Parts
Neutral Safety Switch
Pipes and Hoses
Seals and Gaskets
Shifter Components
Customer Reviews

Very impressed with the buying process. Quick shipping and correct Jaguar parts sent. Company was very quick to respond with a question i had and gave the part number i needed. Will definitely buy from again. Daniel K.

The correct parts arrived and have been installed. It was a pleasant surprise to receive the parts only a few days after placing the order. I was a little hesitant to order from the US as I am in Canada but overall a very good experience and I will definitely recommend and use this service again in the future. James M.

Excellent service, selection and prices. Gary, the owner, emailed to suggest a way for me to save $ on my order, which I took him up on and greatly appreciated. Thanks Gary! Mark B.

I used Jagbits for the first time last week and I will use them again. The ordering process is easy and the parts arrived quickly. I appreciate that the owner is involved on a daily basis and works to ensure the customer is satisfied. Richard S.
See our Testimonial page for more reviews of our service department.