Jaguar X-Type Model Description, History and Parts Information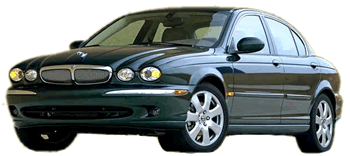 There has been much written (good and bad) about this misunderstood car. The Jaguar X-Type was designed to be a compact executive car, competing in the same vehicle class as the 3-series BMW and the Mercedes C-Class. Under the development name "X400", the X-Type was manufactured and marketed by Jaguar Cars from 2001 to 2009. Although the model was never the market success that Jaguar had envisioned, with a total production of over 350,000 units it was nevertheless one of the best-selling models Jaguar ever produced.
The X-Type was based on Ford's CDW27 platform, which was also used in the Ford Mondeo, Ford Contour, Mercury Mystique, and Mercury Cougar. While all of these cars shared the same basic body shell, the drivetrain and suspension were unique to the Jaguar line.
Initially, the car was delivered with all-wheel-drive and a choice of either a 2.5 litre or 3.0 litre V6 gas engine. In 2002, an entry-level 2.1 litre V6 front-wheel-drive model was added. Beginning in 2003, Jaguar offered a diesel engine option. Transmission options were five-speed automatic or five-speed manual.
The 4-door X-Type sedan kept the classic rounded lines of earlier models with a rectangular grill. A 5 door "sport wagon" was produced in 2004. However because this was designed as a compact car the roof was more arched than earlier models which resulted in less head room for taller adults and exiting the rear of the car was more difficult due to a smaller rear door.
Announced early in 2014, the successor to this car was the Jaguar XE, set to take the 3-Series head on.
We have the most accurate Jaguar parts catalogs on the internet so that you are able to find the correct part for your car every time. Check out our complete line of new and used parts for the X-Type.
Can't find the new or used part you need? Complete the Jaguar Parts Request Form:
If you have any questions, just email us.

Return to JAGBITS home.