Jaguar XJ40 Model Description, History and Parts Information
The Jaguar XJ40 (1987-1994 XJ6), another luxury sedan, was a completely new car, totally different from the Series III XJ6. Officially unveiled in 1986 it was designed to replace the Series III, although the two models were sold concurrently until the Series III XJ12 was finally retired in 1992. The XJ40 won an award for the "Safest Car in Britain" in 1993 due to a survey sponsored by the government.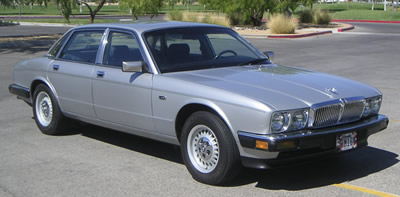 Due to the 1973 fuel crisis the XJ40 was designed with less weight, less drag, less wind noise and a stronger structure, all with the end goal to save fuel.
The XJ40 used a new version of the Jaguar independent rear suspension that moved the brake assemblies out to the rear wheels. The U.S. cars were initially offered with the 3.6 liter engine. The 4.0 liter began in 1990, and the V12 was offered beginning in 1993.
The automatic gearbox used in the 3.6 liter six-cylinder cars was the four-speed ZF 4HP22. On the later 4.0 liter, the four-speed ZF 4HP24 was used. The stronger four-speed GM 4L80-E automatic was required for the V12-equipped cars.
The 3.6 liter equipped cars were somewhat anemic compared to the later 4.0 liter cars, but the difference was mostly due to the rear end gear ratio. The power output of the two engines differs by only 24 horsepower, 221 for the 3.6 versus 245 for the 4.0.
Manual transmissions were offered in Non-U.S. regions, but no U.S.-bound cars were provided with a manual gearbox.
The successor to this car was the X300 XJ6. Although the two cars shared the "XJ6" name, they are completely different vehicles.
Ordering Parts for the XJ40
We have the most accurate Jaguar parts catalogs on the internet so that you are able to find the correct part for your car every time. Check out our complete line of new and used parts for the XJ40.
Can't find the new or used part you need? Complete the Jaguar Parts Request Form:
If you have any questions, just email us.

Return to JAGBITS home.