How to Change Tail Lamp lenses on the Jaguar XJ40.
The XJ40 model replaced the Series III XJ6.
For more information about this model see the Jaguar XJ40 page.
Original 1992 Jaguar Vanden Plas Rear taillight lens.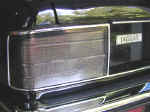 Remove 4 nuts at each corner of taillight. Remove bulb holder.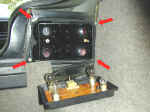 Rear of taillight assembly.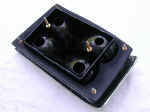 Front of taillight assembly: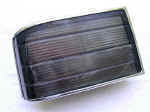 Remove chrome trim from Vanden Plas assembly (if applicable).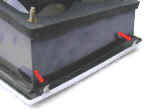 Cut around edge being careful not to damage inner lenses that are 1/4" or so under the outer clear lens. Remove plastic outer lens from assembly by snipping small pieces: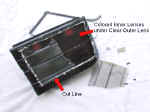 Remove all of the original lens from the deep groove.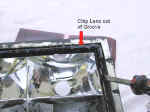 On the Vanden Plas lens, notice the dark and clear pieces. The dark pieces are from around the edge.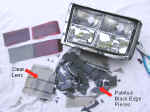 Set the inner lenses into position (loose - not glued) and glue the new outer lens into the groove using epoxy. Reinstall the chrome trim.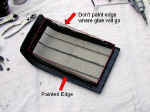 See our Jaguar Parts Store Catalog to order parts.
Other Jaguar Technical Information Pages:
TechBits Page 1 | TechBits Page 2 | TechBits Page 3
Can't find the new or used part you need? Complete the Jaguar Parts Request Form:
If you have any questions, just email us.

Return to JAGBITS home.