How to Replace the Jaguar XJ6 and XJ8 Broken Cup Holder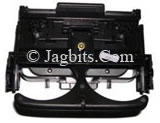 If you own a 1988-1997 XJ6, 1998-2003 XJ8, or 1997-2005 XK8, chances are you will one day need to replace the cup holder that is in your center console lid. We sell the part to fix it on the website under part number GNA7692AB and it only takes about 15 minutes to remove your old assembly and install this new one.
You will need to remove all the screws with a TORX head screwdriver which can be purchased at any local parts store. The old cup holders had plastic hinges that easily broke for no apparent reason where as the new assembly we sell has stronger hinges that will certainly last longer. Of course if you push down hard on an open cup holder it will break again so please be careful.
See our Jaguar Parts Store Catalog to order parts.
Other Jaguar Technical Information Pages:
TechBits Page 1 | TechBits Page 2 | TechBits Page 3
Can't find the new or used part you need? Complete the Jaguar Parts Request Form:
If you have any questions, just email us.

Return to JAGBITS home.