Your Best Source for New and Used Jaguar Parts
Largest Inventory of OEM and Aftermarket Parts Online

We have the largest inventory of new and used OEM original parts and excellent quality aftermarket parts. We supply Jaguar parts for every model including XJ6, XJS, XK8, XJ8, S-Type and X-Type and for the brand new model year cars also.
Lowest Prices for Jaguar Performance Products
Hundreds of salvage Jaguar cars are utilized with the lowest prices and largest inventory of any Jaguar auto parts supplier in the United States. Body parts and accessories can also be purchased at wholesale. Search for Jaguar parts or accessories by model name, part number, or part description in the box on right. If you can't find the parts you are looking for phone us at 888-524-2487, International:+1-805-845-0426 or email us.
Shop for Jaguar Parts by Vehicle
Search by Part Description
or Part Number
Example: Jaguar hood leaper emblem
Highest Quality Parts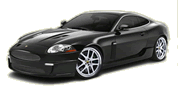 Jagbits has 25 years of experience selling new and used Jaguar parts. We quickly respond to inquiries and have had the same two salespeople answering your emails and phone calls for the last 10 years with a combined 50 years of parts experience. We know Jags better than your local dealer!
Excellent Customer Service
Our customer service is unmatched by our competition because we strive for 100% accuracy in our parts catalogs, with the goal to ship you the right part in three to four days. We research all our auto parts carefully. If we cannot test a used part to be sure it works perfectly we will not ship it. We can easily email pictures of new Jaguar parts for identification purposes.
Order Jaguar Parts and Accessories Online or Call Toll Free:
888-524-2487, International: +1-805-845-0426
Customer Reviews

Very impressed with the buying process. Quick shipping and correct Jaguar parts sent. Company was very quick to respond with a question i had and gave the part number i needed. Will definitely buy from again. Daniel K.

The correct parts arrived and have been installed. It was a pleasant surprise to receive the parts only a few days after placing the order. I was a little hesitant to order from the US as I am in Canada but overall a very good experience and I will definitely recommend and use this service again in the future. James M.

Excellent service, selection and prices. Gary, the owner, emailed to suggest a way for me to save $ on my order, which I took him up on and greatly appreciated. Thanks Gary! Mark B.

I used Jagbits for the first time last week and I will use them again. The ordering process is easy and the parts arrived quickly. I appreciate that the owner is involved on a daily basis and works to ensure the customer is satisfied. Richard S.
See our Testimonial page for more reviews of our service department.